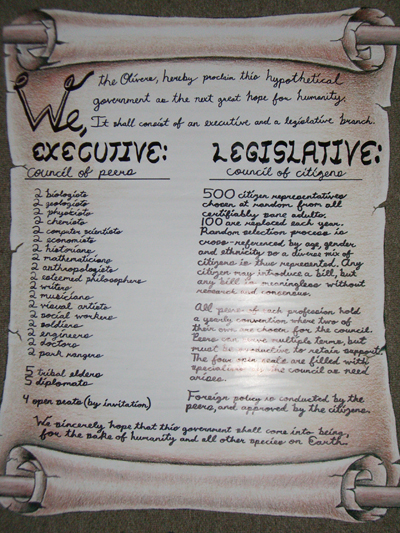 WE, the Olivers, hereby proclaim this hypothetical government as the next great hope for humanity.
It shall consist of an executive and a legislative branch.
EXECUTIVE: Council of peers
---------------------------
2 biologists
2 geologists
2 physicists
2 chemists
2 computer scientists
2 economists
2 historians
2 mathematicians
2 anthropologists
2 esteemed philosophers
2 writers
2 musicians
2 visual artists
2 social workers
2 soldiers
2 engineers
2 doctors
2 park rangers
5 tribal elders
5 diplomats
4 open seats (by invitation)
LEGISLATIVE: Council of citizens
--------------------------------
500 citizen representatives chosenat random from all certifiably saneadults. 100 are replaced each year. Random selection process is cross-referenced by age, gender and ethnicity so a diverse mix of citizensis thus represented. Any citizen may introduce a bill, but any bill is meaningless without research and consensus.
All peers of each profession hold a yearly convention where two of their own are chosen for the council. Peers can servemultiple terms, but must be productive to maintain support. The four open seats are filled with specialists by the council as need arises (global warming, space race, depression etc). Foreign policy is conducted by the peers,and approved by the citizens.
WE sincerely hope that this government shall come into being, for the sake of humanity and all other species on Earth.