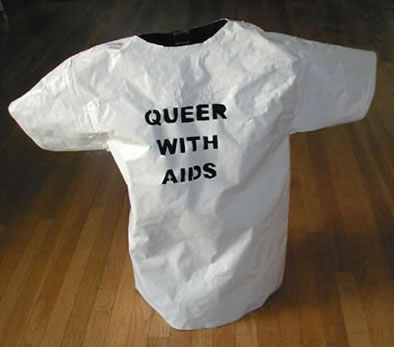 As a person who had considerable influence on, and enjoyed the complete respect of, many wealthy but conservative people in the city, he chose to be very public about the fact that he had AIDS and made it one of his missions to make people realize that good people get AIDS and thus help de-stigmatize AIDS and the people who had it. In the mid 80's, when fear of AIDS was at its peak, he would often wear a t-shirt he'd made that said "Queer with AIDS" to work.
--Excerpt from Paul Arensmeyer's life story

I never personally knew William Jamison, but being an artist in Portland, Oregon, it's almost impossible not to know who he was.

I wanted to recreate his t-shirt because that part of Paul's story reminded me of my own story, when I simultaneously "came out" sexually and artistically.

I loved the idea of creating a shirt that could stand on its own, still holding the presence of a man whose legend lives on in galleries, in conversations, and in the city that is so important to me.