"Draw a map of your childhood places."
Draw a map of your childhood play areas, emphasizing areas where you got away from adults such as forts, hide-outs, special places. Recall a specific memory and write about it.

Example: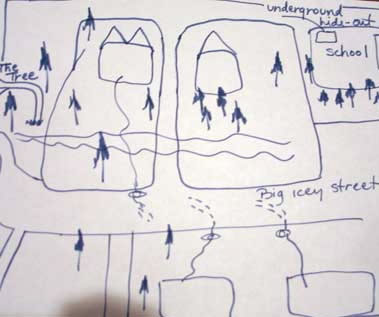 There was a bent-over dogwood tree down the street. I would meet my friend there and we would sit on the tree and talk or read comic books - Archie, Richie Rich, Tintin. Sometimes we would steal cigarette butts from our parents' ashtrays and smoke them there. Our brothers dug an underground fort in the red clay and they let us come in once. It felt both really big and cramped inside and the light coming in was tinted red from the dirt. In case of a rare threat of snow, the dads would stand out by the streets with their scotches and martinis and hose the street down so that we couldn't get out to go to school and work the next morning.